If you're new to compression or have concerns about your legs or feet, please talk to your GP, nurse or pharmacist for further advice on whether compression might be suitable for you.
If you sit or stand for long periods of time at your job or when travelling, experience tired, achy or swollen legs, compression may be suitable for you! Our compression socks can give your legs a boost of energy and help reduce and relieve symptoms.
Prior to purchasing our compression socks, tights or garments we recommend you speak to your healthcare professional. If you are suitable for compression, your healthcare professional will prescribe you 2 pairs of compression socks, tights or garments.
A prescription should include the following:
Brand
Class
Size
Open or closed toe
Colour
Style (below knee or thigh length)
Number required (specify pairs or individual garments)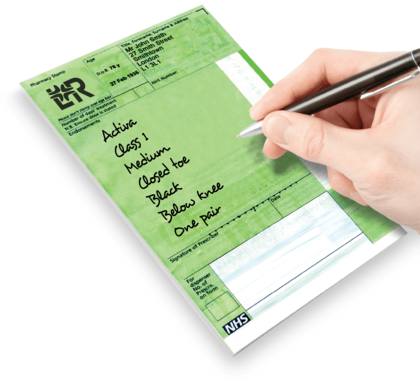 L&R's compression socks, stockings and tights will deliver graduated compression for 100 washes. We would recommend that you have 2 - 3 pairs so that you always have a pair to wear if one is in the wash. This equates to being replaced every 6 months.
If you would like to purchase extra pairs of compression, visit our products page: https://shop.lrselfcare.co.uk/products/